There's always something happening!
The Canyon County Pickleball Club is all about friendly fun.  We're active all year long, with tournaments, events, drilling, lessons, and more. On this page we list events that are coming up soon, just finished, or down the road a little more.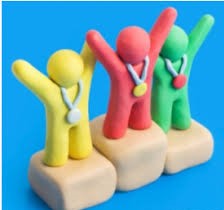 It's Time for our Spring Tournament!
Buckle up, buttercup!  The tournament is ON!
Every year, 2CPBC hosts it's outstanding Spring Tournament. This year, the event will happen on Saturday, June 11 (weather permitting) at Luby Park in Caldwell. Our club has grown so much that we will be implementing a different tournament format this year in order to handle all the people who want to participate, while keeping a manageable number of games for each player. Mark De Jong is our Tournament Director, and he'll make sure everyone gets a fair shake without getting too worn out. 
You'll need to sign up in advance for the tournament so we'll know how many are playing in each division.  Here are the details:
2C SPRING TOURNAMENT
SATURDAY, JUNE 11, 8:45 AM, LUBY PARK COURTS
Free to members, $15 non-members

Lunch is free to members, $5 to non-members

Pre-registration deadline-Thursday, June 9, 9 PM

Skill levels–up to 3.0, 3.5, 4.0

Pools start at 9, 11:15 AM & 1:30 PM

Each game play to 11, win by 1

No partners-round robin play

Medals for first 3 places/each level, based on total points/games won

Limit of 16 players per pool

Check in 15 minutes before pool play
Registration: Contact Mark at [email protected] or call 208-571-3187, leave email or phone message with name and skill level.
Bring food to share and a chair.
Youth and Adult Lessons
Pickleball is such great fun that we want to share it with everyone.  If you're just getting started, or enjoy helping others learn, please join the 2CPBC for pickleball lessons.  
Each year, as a way of helping to give back to the community for all the support we get, the Canyon County Pickleball Club offers lessons for both youth and adults.  First lessons this year:
Youth - June 7th, 8th, and 9th
Adults - July 12th, 13th, and 14th
Times will be announced soon. Some of the courts at Luby Park will be reserved for lessons on these dates, but other courts will still be available for open play.
We need volunteers to help with lessons on these dates.  Please contact Don Denton, our club President, if you are willing to help give lessons or assist the ones who do.
The 2CPBC Spring Pickleball Fling was a Great Success
On April 23rd, we had our first ever Spring Pickleball Fling and it was a great day for Pickleball in Treasure Valley.  While hearts and smiles were warmer than the weather, it was still great fun.  Thanks to all who participated, brought food, organized the event, and just showed up to meet old friends.  We also appreciate Andy for organizing and running a singles tournament for the event.
Let's do it again next year!
New Officers for 2CPBC
Decision making for 2CPBC is handled by elected club officers. Each year, we elect two new officers for the club.  This year, the club voted in Kim Pickard as Vice-President and re-elected Martha Feeley as Secretary.  Don Denton moved from Vice-President to President this year, and Greg Brashier is our membership clerk and treasurer for another year.  At the end of this fiscal year, Greg and Don will be released and Kim will move in to take over the role of President.  Next year, we'll need to elect a new Vice-President and membership/treasurer. 
In addition to the elected officers, the board appoints advisors each year to help make decisions and move the club forward.  Current advisors include Deb Redmond, Debi Smith, and Shawn Taiji. We give a hearty vote of thanks to the people who help us manage the direction of the club.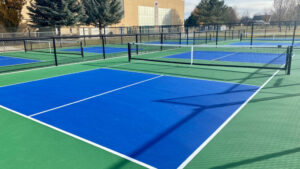 What's Happening with Luby Park?
As most of you know, we're working with the City of Caldwell, hoping to get the courts at Luby Park re-done.  The latest bids came in higher than hoped. A meeting of the Urban Renewal Committee on May 9 had nearly 40 2CPBC players in attendance.  Several shared their thoughts about pickleball and why we need a better place to play.  The meeting was cordial and constructive.  The committee is working with bids trying to keep the costs under control and we'll be invited to a future meeting when there is more information about alternatives.  Stay posted, and please support the cause when we ask for people to attend the next meeting. Thanks to all who went on May 9th.
Membership
Our fiscal year goes from April 1st to March 31st. We're now sending out and receiving membership forms for 2022.  To get yours, contact a club officer, or drop us a message on the Contact Us page of this website. Membership gets you free tournaments, free food, drills, lessons, comradery, and tons of fun.
Why 2CPBC? It's the people!
Pickleball is fun. It's the fastest growing sport in America for a reason. It's even more fun when you play with people that respect and help each other. At the Canyon County Pickleball Club, our goal is to keep being the friendliest courts in Treasure Valley.  Come play with us and see the difference. We try to avoid cliques, appreciate our differences, and learn together. From open play to drills and lessons, to tournaments and events we're having fun . . . together.
How to get involved
Getting started with the 2CPBC is easy - just show up at one of the places we play and introduce yourself. Let us know that you are new to the club or the area, or even entirely new to pickleball. We'll help get you going and introduce you to other players.  If you want to become a member, go to our Join Us page and send a membership request. If you just want to know what's going on or where people are playing, check our our Facebook page, 2C Pickleball.
Where we play
Most of our players go outdoors in the summer and indoors in the winter.  The most popular outdoor pickleball courts are at Luby Park in Caldwell, with some choosing to play at the school courts outside the Community Center in Middleton, while others go to Midway Park in Nampa.
Indoor courts that are most heavily used by club members include the Caldwell YMCA, the Middleton Community Center, and Mettle Sports in Nampa. For more detail on these locations, click on one of these links: